If you own a home in Linden, or if you want to own a home in Linden, this is the place to be for information about real estate values.
Inventory: There are currently 243 single family homes offered for sale ranging in price from $45,000 to $549,000.  
Twenty seven homes sold in Linden in November in Linden compared to 23 homes that sold in November of 2014 and 22 homes that sold in November of 2013.  The increase in late autumn sales helps reduce the winter inventory in Linden.
The blue line in this graph represents the active inventory in Linden for the past several years. There are seasonal trends with inventory typically increasing in the summer, quite dramatically in 2015, and decreasing each winter. The trend line is the light blue straight line in the graph and it shows long term changes and eliminates the annual fluctuations.  The inventory in Linden over the last four years shows little change.  The red line at the bottom of the graph shows sales which have increased very slightly over 4 years.  
Prices:
In November of 2016, the average sold home was sold for $249,014. This is 10.5% higher than November of 2015 average of $217,403 and 5% higher than the 12 month average sale price of $235,745.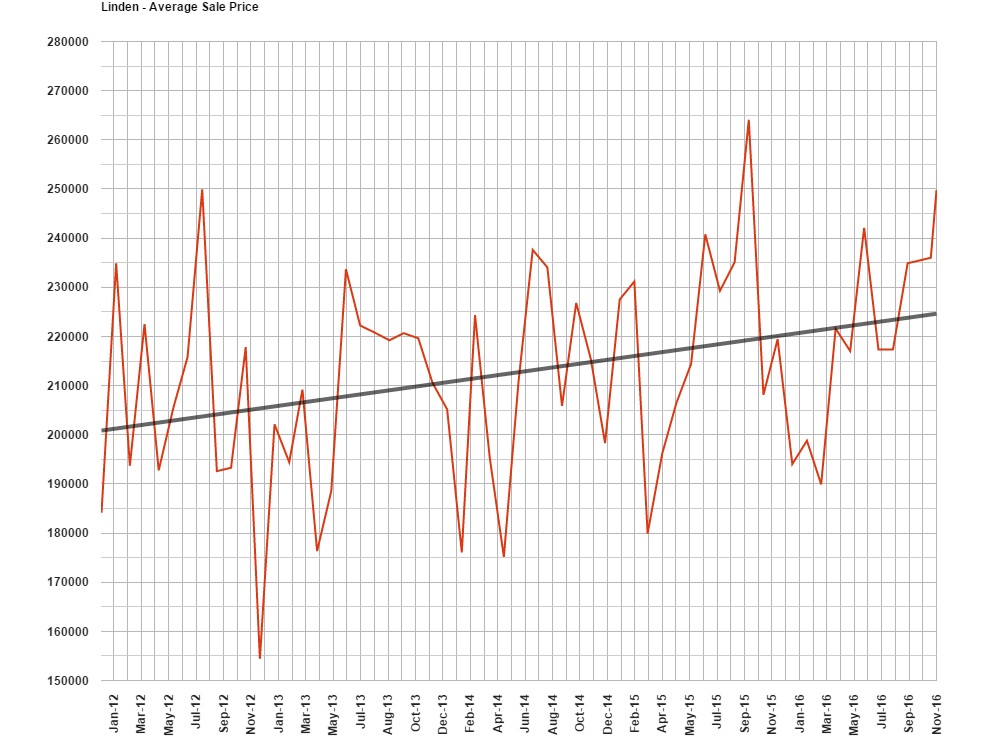 The graph for Linden sale prices shows a lot of variability from month to month. As the market continues to improve, it's reasonable to predict that variability will decrease but for now we still see big fluctuations. The important piece of this graph is this trend line which is the dark grey straight line on the graph. It shows the four year trend, eliminating the monthly variability.  In January of 2012 home prices in Linden were around $202,000 whereas now they're closer to $225,000.  A steady improvement in home values means a larger return on investment for homeowners.
Days on Market: Three factors affect how long your home will be on the market - price, condition, and marketing. Homes that are priced at market value sell faster than homes that are overpriced. Homes in better condition will sell faster than homes in poor condition. And homes that are marketed well will sell faster than homes that are not marketed well.
In November of 2016, the average sold home was sold after 57days. This is the fastest rate of home sales in Linden for several years.
Here's the graph showing how long it takes to sell a home in Linden going back and comparing the last 4 years.  Homes are selling about more than  month faster than they were 4 years ago in Linden.  This trend will hopefully continue as the Linden market improves.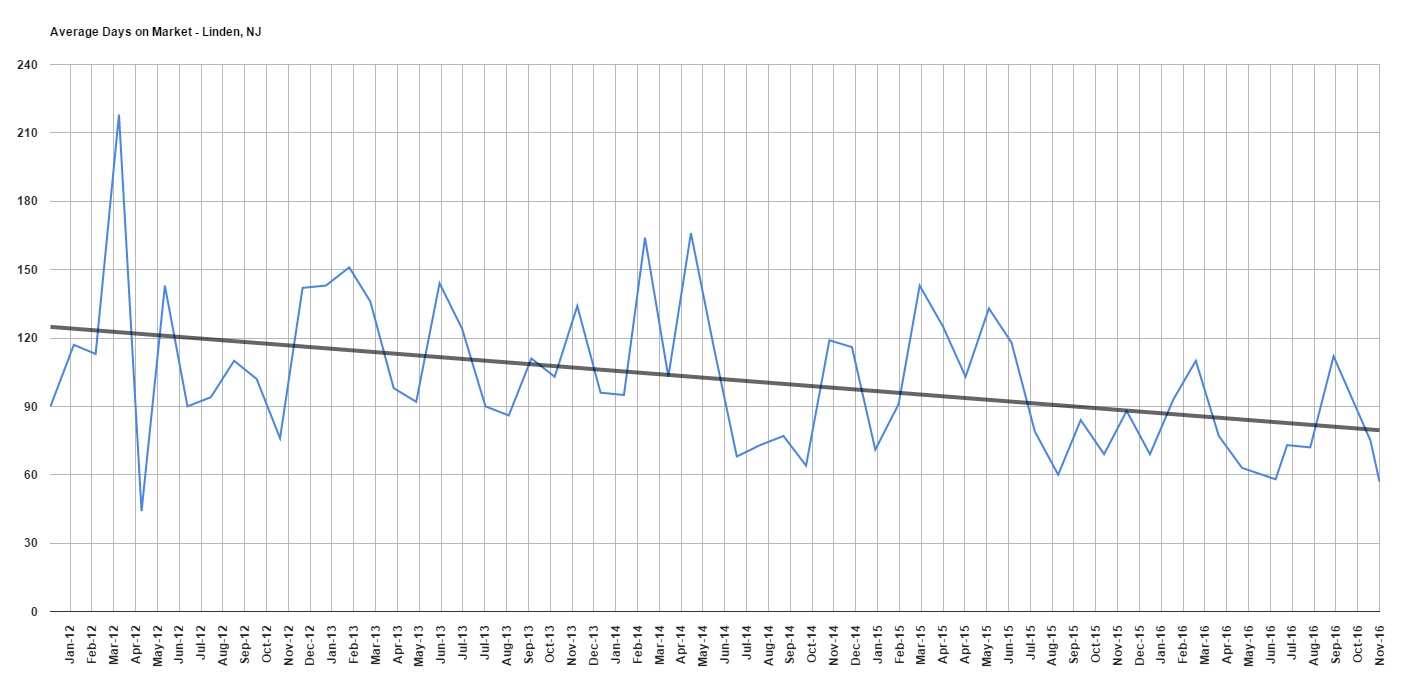 If we can help you with your Linden home sale or purchase, please call us at 908-917-4189 or 201-674-3840.
~ Wayne & Jean 
Union County, NJ - a great place to live and work!
If you're looking to buy or sell a property in Union County, call us at 908-917-4189 or email TeamZuhl@gmail.com.

All opinions, information and data provided is deemed reliable but is subject to errors and omissions. Not intended to solicit other Brokers' clients. We cooperate with them fully.